Today is a delivery cuppies order from Julie, one of my friend in my Facebook lists. Actually I knew her from real life for quite sometimes back and we met again in the Facebook last year.

She made orders for 200pc for the Kenduri cum Birthday occasion at 2.00pm today. Since, I was working halfday, so kind of rushing to tune up the timing for the delivery arrangement. I managed to skip out early off from the office and sneak out smartly to drive home to accomplish my mission..hehe

Lucky I have a 'fren' that I could rely to render his assistance for the delivery. Thanks buddy...
It is quite adventure when delivering those cuppies on the rocky road which need extra guardians before they smashing each other in the box. If I would to deliver it my self i think those cuppies will turn like in a war field..mess all round...
Another adventure is when, the location is I not familiar with to go..she has given the address and without the draft direction, we got lost and like merry go round....this situation doesn't healthy for the cuppies...no no no..
So the solution that came to mind is ~ S.O.S~ please rescue us...then i rang Julie and we met somewhere and follow her to the house.
As a token of appreciation for her order and excellent payment (which she paid cash upfront upon confirm the orders), I grant a Choc Moist Cake for her birthday on complimentary. Thanks for your Julie and Happy Birthday to You.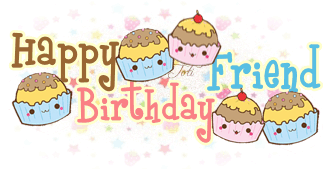 p/s Cuppies pictures will be uploaded later, as it was kept in my 'fren' memory card.